Flight Ways
Flight Ways: Life and Loss at the Edge of Extinction was published by Columbia University Press in 2014.
Available from 2021 in French translation, published by Editions Wildproject, Marseille.
Available from 2023 in Japanese translation, published by Seidosha Publishing, Tokyo.
Shortlisted for the François Sommer 2022 Prize.
---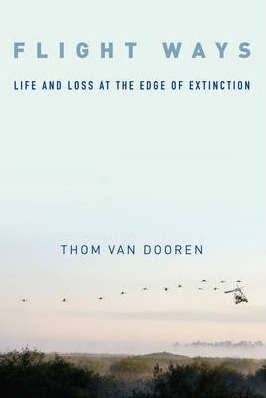 A leading figure in the emerging field of extinction studies, Thom van Dooren puts philosophy into conversation with the natural sciences and his own ethnographic encounters to vivify the cultural and ethical significance of modern-day extinctions. Unlike other meditations on the subject, Flight Ways incorporates the particularities of real animals and their worlds, drawing philosophers, natural scientists, and general readers into the experience of living among and losing biodiversity.
Each chapter of Flight Ways focuses on a different species or group of birds: North Pacific albatrosses, Indian vultures, an endangered colony of penguins in Australia, Hawaiian crows, and the iconic whooping cranes of North America. Written in eloquent and moving prose, the book takes stock of what is lost when a life form disappears from the world—the wide-ranging ramifications that ripple out to implicate a number of human and more-than-human others. Van Dooren intimately explores what life is like for those who must live on the edge of extinction, balanced between life and oblivion, taking care of their young and grieving their dead. He bolsters his studies with real-life accounts from scientists and local communities at the forefront of these developments. No longer abstract entities with Latin names, these species become fully realized characters enmeshed in complex and precarious ways of life, sparking our sense of curiosity, concern, and accountability toward others in a rapidly changing world.
The publisher's website.
---
Endorsements
"I love this book. van Dooren's thorough, detailed, and calmly passionate scholarship adds immensely to my understanding of caring, science and justice, and conditions for recuperation that take multispecies flourishing seriously. He is a leader in learning to learn without the tools of human exceptionalism, attuned to the nuances and specificities of situated worlds, including human worlds-in-relation with other critters."
~ Donna Haraway, University of California, Santa Cruz (author of When Species Meet)
"In this wise and fascinating book, van Dooren takes us into the fleshy, biosocial, and ethical consequences of extinction. His lively stories of five bird species open worlds—both avian and human—of care, dedication, and the most ardent commitment. By developing a deeper understanding of species as intergenerational and interspecies achievements, van Dooren helps us rethink both loss and conservation. Flight Ways is a profoundly realized exploration of why extinction matters, and how we may respond."
~ Deborah Bird Rose, University of New South Wales (author of Wild Dog Dreaming: Love and Extinction)
"Haunting, beautiful, and important: Flight Ways is extraordinary. This is ethnographic storytelling at its very best, and it carries the environmental humanities to new heights. You will never look at a bird in the same way again."
~ Anna Tsing, University of California, Santa Cruz (author of Friction: An Ethnography of Global Connection)
"This is an excellent book that deserves wide readership."
~ Marc Bekoff, University of Colorado, Boulder (editor of Ignoring Nature No More: The Case For Compassionate Conservation)
"Flight Ways recovers a way of responding ethically to extinction. van Dooren's scientifically-informed case studies of particular bird species facing extinction give the lie to the trope of "the last one" by framing stories of the "distinct unraveling of ways of life" that had evolved over millions of years and whose passings are unevenly experienced as tragedies. Informative, heartbreaking, and deeply inspiring, his book serves as a compelling model for how animal studies scholarship can move beyond false competitions of individuals and populations to engage with the real problems of sustaining life in multispecies communities."
~ Susan McHugh, University of New England (author of Animal Stories: Narrating Across Species Lines)
"A magnificent, sensitive, and marvelously intelligent book that tells stories of extinction while reinspiring us with life and curiosity. Every page teaches us something about other forms and ways of life, makes us think differently or more deeply than we have been in the habit of thinking, and helps us to do so in company with the beings of other species. Van Dooren teaches us that to care passionately can be a weapon of resistance against the forces of destruction."
~ Vinciane Despret, University of Liège (author of Quand le loup habitera avec l'agneau)
"Many studies in the more-than-human mode engender little more than the 'So, what?' question. This is not one of those. In encouraging us to linger with the trouble, it reminds us of the many values of ethnographic approaches. It gives us new tools to think about extinction and species with. And in more ways than one, it is an unexpectedly hopeful book"
~ Lesley Head, University of Melbourne (co-author of Ingrained: A Human Bio-geography of Wheat)
"Flight Ways captivates with its moving prose, keen and surprising observations of avian life worlds, and haunting philosophical meditations. Curiosity is Van Dooren's entrée, empathy his method, and ethology his guide."
~ Gregg Mitman, University of Wisconsin-Madison (author of Documenting the World: Film, Photography, and the Scientific Record)
---
Media coverage and discussion
John Yunker "Flight Ways: Birds living on the dull edge of extinction" EcoLit Books, August 2015
Philip Cafaro "Reduce wildlife extinction: Get to know the function of other species" HumanNature Blog, Colorado State University, June 2015
Carla Nappi "Flight Ways," New Books Network seminar, April 2015
Joe Gelonesi "The meaning of extinction," The Philosopher's Zone, ABC Radio National, November 2014
Βάνια Τέρνερ "Ο Άνθρωπος Προκαλεί την Έκτη Μαζική Εξαφάνιση των Ειδών" an interview in VICE, Greece, September 2014
Simon Worrall, "How the Current Mass Extinction of Animals Threatens Humans," National Geographic Book Talk, August 2014
Ian Johnston, "Crows and other animals grieve for their dead, new book claims", The Independent, August 2014
Jenny Hendrix "Extinction Stories: The Ecological True-Crime Genre," The Millions, August 2014
D. Wayne Dworsky, San Francisco Book Review, August 2014
Lesley Head "Reflections on Flight Ways and Bird Cultures" Conversations with AUSCCER, July 2014
Justin E.H. Smith "The Great Extinction," Chronicle of Higher Education, May 2014
Melissa Cronin, "The 8 Animal Must-Read Books For This Summer," The Dodo, July 2014
Marc Bekoff, "Animals and Us: Eight New Excellent and Diverse Books," Psychology Today, May 2014
---
Academic reviews
Charles Bergman, 2018 "Avian Entanglements and Mutual Becoming: Comprehending Species Extinction through 'Lively Stories'", Society and Animals, 26, 644-651
Gregg Mitman, 2016 "Life in the Ruins" BioSocieties.
Eva Giraud and Gregory Hollin, 2016 "Thom van Dooren's Flight Ways: Life and Loss at the End of Extinction", Somatosphere, June 17.
Ben Garlick and Franklin Ginn, 2016 "Review: Flight Ways: Life and Loss at the Edge of Extinction by Thom van Dooren," Progress in Human Geography, 40.1, 149-154.
Paul Banko, 2015 "Book Reviews: Flight Ways: Life and Loss at the Edge of Extinction", Journal of Field Ornithology, 86(2), 180-182.
Aidan Davison, 2015 "Book Reviews: Flight Ways: Life and Loss at the Edge of Extinction", Geographical Research, 53(3), 336–344.
Matthew Calarco, 2015 "Animal Studies", The Year's Work in Critical and Cultural Theory, pp.1–20.
Fiona Probyn-Rapsey, "Review: Flight Ways: Life and Loss at the Edge of Extinction" by Thom van Dooren, Animal Studies Journal, 3(2), 2014, 4-16
Philip Cafaro, 2015 "Recent Books on Species Extinction", Biological Conservation, 181, 245–257